Attention NCR unemployed incumbent contractors  – See our open positions on our career page.
Certified Small Business with Large Business Capabilities          
Advantage SCI is Securing tomorrow today® through counterintelligence and innovation. We leverage our expertise to protect everything on the planet.  CEO Elsa Lee founded Advantage SCI in 2000 after serving 20 years as a Special Agent in Army Counterintelligence (CI).  We are owned and operated by caring Veteran executives. Our employees solve national security challenges and protect the nation from terrorists, espionage, cyber, and insider threats. We provide consulting, training, and staffing services – and fuel the economy with worldwide jobs. We employ Veterans, former intelligence professionals, and subject matter experts (SME).  Most of our employees are former special operations and intelligence professionals with one exception. Our newest team member, Executive Vice President MG (Retired) Kevin O'Connell who comes from Army Logistics and helps the company expand the portfolio. MG O'Connell is a world class leader with expertise that meets todays military and combatant commands' sustainment, training, and contingency needs. We help Fortune 100 companies meet regulatory compliance and universities with design of national security curriculum. Advantage SCI is an industry leader in and has received national level awards for global security education.  Our SMEs have delivered counterterrorism and cyber security courses to strengthen partner nation capabilities. Contract vehicles include: DLITE I, DLITE II, TABSS, GSA Schedule 84, INSCOM GISS, Seaport-e full and open, OASIS Tier 2 small business partner and 8(a) teaming partnerships. Advantage SCI is a an agency certified SDVOSB, WOSB, SDB, and MBE headquartered in Alexandria VA under $15Million size standard.
Why we have to be good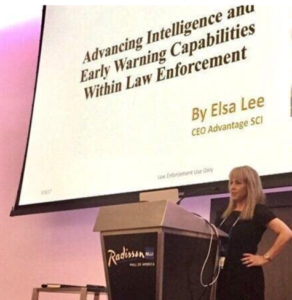 Advantage SCI is entrusted with national security and defense missions in all corners of the world. We have performed as a Prime contractor for 17 years on over 40 awards that exceed $100 Million in total value in Counterintelligence/Intelligence, TSCM, CI/Insider Threat  Security, Linguists, Security Management, Special Security Office, Contingency Support, Consulting, Training, Program Support, Administrative Support, and Access Control. We operate governance like government and Fortune 500 structure. We have internal organic capabilities to recruit, hire, scale and staff projects with highly cleared staff anywhere, anytime.  Our employees are heavily relied upon to support  a long list of prestigious Clients and end users with unique requirements and missions – ultimately protecting the nation, our defense secrets/technology, and at a high level helping to maintain world order.
Read more about Counterintelligence Services
"We strongly believe in the impact of our actions. I'm confident Advantage SCI employees will have a deep and profound impact on mankind long after I'm gone.  Beyond recycling, we are responsible stewards, supporting preservation of resources, and education of our next generation. This is ADVANTAGE SCI!"   Elsa Lee